Friday, December 12, 2003
!!! SRL SHOW - 7 February 2004 - Las Vegas !!!
Exhibition information for Donna Beam Fine Art Gallery
University Nevada Las Vegas
4505 Maryland Parkway
Las Vegas, NV 89154
702-895-3893
Exhibition: Survival Research Laboratories
Organized by: Susan Joyce and Robert Wysocki
Exhibition Dates: January 12 – February 7, 2004
Gallery Hours: Monday – Friday, 8 -5 PM; Saturday, 10 - 2 PM
Reception: Friday, January 30, 7-9 PM
Performance: Saturday, February 7 at 8 PM
Sam Boyd Stadium/UNLV
7000 E. Russell Rd.
Las Vegas, NV 89122
Viva Las Vegas Survival Research Laboratories Celebrates 25 Years!
SRL was conceived and founded by Mark Pauline in 1978 as an organization of
creative technicians dedicated to redirecting the techniques, tools, and tenets
of industry, science, and the military away from their typical manifestations
in practicality, product, or warfare. In recognition of the remarkable vision
and achievements of Mark Pauline and the SRL crew, this exhibition and event
will mark a quarter century of performances. Included in the gallery will be
machines, documentary videos, and large-scale images. SRL engages new
vocabularies by integrating machines, theatrical sets and props, with dramatic,
visual metaphors bringing to life, large-scale mechanical performances for
audiences that rival other popular cultural events. By taking things to extreme ends, SRL attempts to create new levels of sensory and emotional intensity. Using
diverse disciplines such as performance, literature, and engineering, in concert with artistic expression, ideas are transformed into visceral experiences.
Tickets for the Feb.7 performance will go on sale in January at
http://unlvtickets.com
.
For further information contact susanjoyce @ srl dot org or please visit this site
Thursday, December 11, 2003
Images for UC Berkeley Art Museum Show
A private show was held last November at the UC Berkeley Art Museum. Museum directors from around the world and 150 of SRL friends were in attendance. The show lasted for about 20 minutes without incident.
Some images are available here but keep checking as more will be digitized soon.
Many thanks to Ralf Burgert,
Catweasel
,
Amacker
, etc. for images so far. More to follow...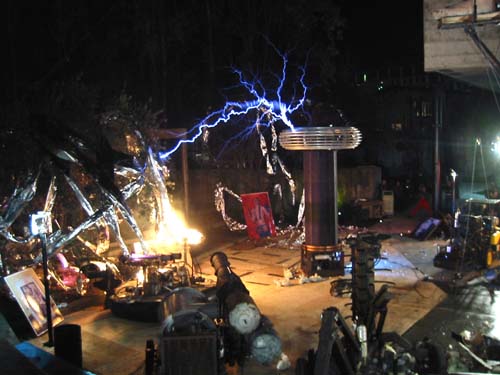 Monday, December 08, 2003
V1 Prank
In conjunction with RE/Search's Pranks! Festival, Mark Pauline appeared in a panel with other pranksters such as Jack Napier and blank from the
BLF
,
Ed Holmes, Paul Mavrides, Monte Cazzazza, Bruce Conner, Mark McCloud, Mal Sharpe, and Robert Delford Brown. Footage from the last SRL show was shown, and Mark ran the V1 for a few minutes outside the Lab on 16th street, setting off car alarms, and drawing cheers from pleasantly surprised pedestrians.
Very short video clip of V1 in front of the Lab
&nbsp