Saturday, March 31, 2007
Stay Tuned for Premiere of SRL Video
Last year's
Ghostly Scenes of Infernal Desecration: An SRL End of Days Production
was filmed by a stellar crew of film makers and videographers and the result is an amazing edit by Ian Williamson and Babalou where the audience is immersed within a 16 channel audio recording, putting them into the middle of the performance, while 10 10' screens surround them with a multi-camera, multi-screen edited video. By far the most accurate reproduction of an SRL show, as well as an experience impossible to have live.
Watch this site for more details on when and where it will be shown!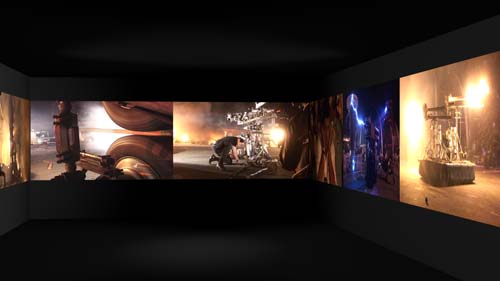 Click on the image to see the high-res version
Preview of the edit was held at the SRL shop for the crew, usual shenanigans ensue
Monday, March 05, 2007
Mark Pauline Speaks at CCA
Mark Pauline: Survival Research Laboratories
Media Arts lecture
Thursday, March 15, 7:30 pm
Nahl Hall, Oakland campus
Info: 510.594.3656
Survival Research Laboratories (SRL) was conceived of and founded by
Mark Pauline in November 1978. Since then, SRL has operated as an
organization of creative technicians dedicated to redirecting the
techniques, tools, and tenets of industry, science, and the military
away from their typical manifestations in practicality, product, and
warfare.
Since 1979, SRL has staged over 45 mechanized presentations. Each
performance consists of a unique set of ritualized interactions
between machines, robots, and special effects devices, employed in
developing themes of sociopolitical satire. Humans are present only
as audience or operators.
http://www.cca.edu/calendar/all/1414
&nbsp