Monday, November 26, 2007
Blue and Green Ball - A Benefit for SRL's Own Todd Blair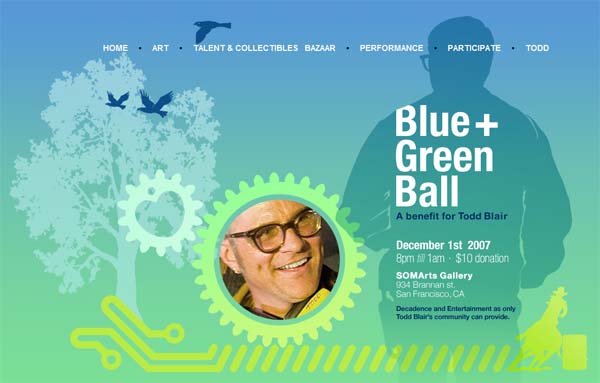 As you all may know, crew member Todd Blair suffered major head injury in Amsterdam in September. His communities have joined forces to help raise funds for his ongoing medical and living expenses by presenting an evening of entertainment, holiday shopping bazaar, and an art as well as talent and collectibles auction. This is your chance to purchase art at a bargain, including your very own
Sneaky Soldier
! Please join us this Saturday at SOMArts for the Blue and Green Ball!
More information at
srl.org/shows/events/todd
Track Todd's progress on
Todd's recovery update blog here
Wednesday, November 14, 2007
Your Very Own Sneaky Soldier
On December 1, SRL along with other
Todd Blair
communities is putting on the
Blue + Green Ball
a benefit for Todd's continuing medical, living, and rehabilitation expenses.
Aside from entertainment, food, shopping bazaar, cash bar, kinetic sculpture, fire art, and more, there will also be an art auction of art from artists such as
Stelarc
,
Lynn Hershman
,
Eduardo Kac
and many others... One of the items up for auction is Chester Arthur one of the Sneaky Soldiers that suffered battle scars in two performances to date:
the Dangerous Curve show
and the
Fish Boy's Dream
. This is the first time that a SRL 'cast-member' will be sold. It is valued at $25,000 but the bidding starts at $2500!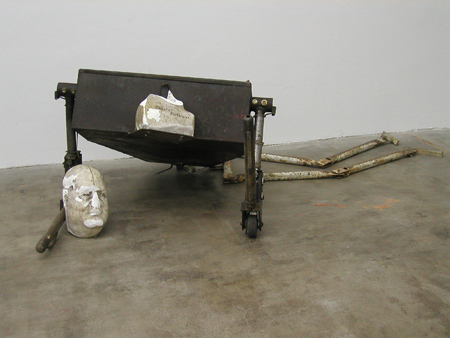 Check the
Blue+Green Ball site
for the rest of the line up and other things up for auction or sale and we hope to see you all there!
We also need YOUR help for the ball! If you would like to donate crafts or electronics or other unique items to sell, we'd love to have it in our bazaar! Please contact
Judy Garvey - bigmonster (at) pon [.] net
. If you have a skill or unusual collectible you'd like to sell/auction off, please contact
Karen Marcelo - karen at this here website dot org
, and if you'd like to volunteer please contact
Jill Miller - jill [at] jillmiller (.) net
Friday, November 02, 2007
SRL Brisbane House for Sale!
Mark, Amy, and Jake Eddie are moving and their wonderful Brisbane home is for sale. The house was designed by Mark and Amy, built by Neal Pauline, and note that metal work (pictured here) was designed and created by Mark Pauline!
Great opportunity to own a piece of machine art history!
For more information check
http://www.rondavis.com/300visit/
&nbsp